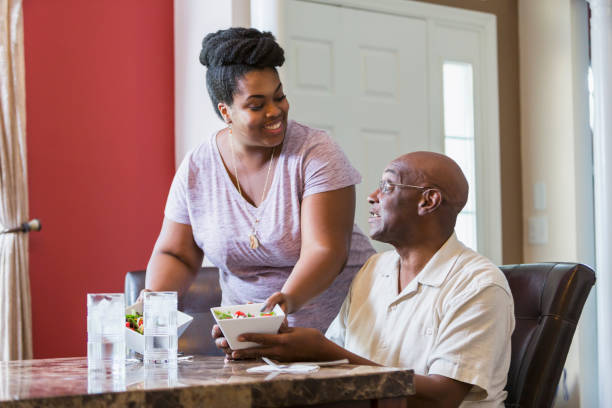 Malnutrition is when a person's diet does not provide enough nutrients or the right balance of nutrients needed for an ideal  health. The nutrients needed in the body include carbohydrates, protein, fats, vitamins, minerals and water. These nutrients give the body energy and strengthen the muscles. They enhance the growth of the body and repair body tissues. They also maintain the proper functioning of the heart and other breathing organs. 
Good nutrition should be of paramount importance to all ages in order to enjoy good health and well-being. As you age, your body and life change, even your diet should be monitored and properly planned. Yet many older adults are at risk of inadequate nutrition. As a family member or caregiver of an elderly, you can learn the signs and risks of malnutrition and how to promote a nutrient-rich diet.
HOW DO YOU KNOW YOUR ELDERLY LOVED ONE IS SUFFERING FROM MALNUTRITION?

 
Here are some signs and symptoms to watch out for :
–

Loss of appetite or lack of interest in food or drink
–

Weight loss
–

Exhaustion and irritability
–

Lack of concentration 
–

Loss of fat, muscle mass, and body tissue
–

Wounds that are slow to heal
–

Trouble chewing or swallowing
–

Getting sick often
–

Loose-fitting clothes
–

Expired food in the fridge
WHY DOES MALNUTRITION OCCUR? 
The causes of malnutrition might seem simple — Malnutrition occurs when a person doesn't eat enough healthy food or when eating diets lacking in nutrients. In reality, malnutrition is often caused by a combination of physical, psychological and social issues most especially in the seniors. A number of things can as well affect the amount and type of food that the seniors eat. They include 
HEALTH ISSUES 
Seniors may have health conditions that cause a loss of appetite or make it hard to eat. They can suffer from dementia or other chronic diseases. Some of these illnesses can also affect their sense of smell and taste contributing to the loss of appetite. They may also have dental problems that make it hard for them to chew or swallow foods. There can also be cases of impairment limiting their ability to handle tableware such as spoon, cup or plate. 
DEPRESSION 
Pain, loneliness, health issues, mobility challenges and other factors might contribute to depression bringing about loss of appetite.
FINANCIAL RESTRAINT 
Seniors may have challenges buying groceries, especially the healthy foods they need. This may be because they spend more on expensive medications in order to improve their health conditions. 
MEDICATIONS 
Some medicines can cause loss of appetite or affect the smell or taste of food. 
MOBILITY CHALLENGES 
Some seniors having mobility problems may not be able to go shopping for food items or cook for themselves. 
SOCIAL PROBLEMS 
Loss of friends and family members, decline in social circle for an elderly who used to enjoy mealtimes with his or her loved ones can cause loss of appetite. 
Such elderly one would not want to eat alone. 
ALCOHOL 
Excessive drinking of alcohol can impair digestion and absorption of nutrients in the body. It can also lead to poor eating habits. 
DEMENTIA
Memory problems due to dementia can result in forgetting to buy food items or forgetting to eat. 
RESTRICTED DIETS  
Restrictions on some types of diets in order to improve medical conditions such as limits on sugar, salt or fat  can contribute to loss of appetite. 
COMPLICATIONS

 
There are complications that can arise if 
an elderly suffers from malnutrition. It can lead to various health issues and can also be fatal. Here are some of the complications:
  –

A weak immune system which can make it difficult for the body to fight off infections
  –

Muscle weakness or loss of strength. This can lead to falls, which can result in  broken bones or fractures.
  –

 A higher risk of complications after surgery
  –

A higher risk of getting sick and slower recovery
 – Memory problems 
 – Unexplained weight loss.
 – Poor wound healing
 – Depression.
 – Exhaustion 
 – Anemia
 –  An increased risk of death
MONITORING NUTRITION AND PREVENTING MALNUTRITION IN OLDER ADULTS 
As a caregiver or family member of an older adult, you should monitor nutritional health of your loved one, watch for weight loss and address risk factors of malnutrition. Here are some tips that can be followed:  
MAKE A NUTRITION PLAN 
When caring for elderly loved ones, family members and caregivers should help them maintain a healthy diet and good eating habits. You should plan and prepare healthy meals for them. Their meal should contain the right proportion of nutrients needed to improve or manage their health conditions. A poor diet can lead to poor health conditions for the elderly ones. Therefore, caregivers should make sure their loved ones eat rightly. 
ENCOURAGE EXERCISE 
You can encourage your loved one to engage in exercise. You can also help by taking a walk with your loved one. This can help to stimulate appetite and strengthen bones and muscles.
MONITOR WEIGHT 
Ensure to help your loved one check his or her weight at home. Keep a weekly record. You can as well watch out for changes in  clothes fittings. It can also indicate weight loss.
MONITORING THEIR MEDICATION. Keep a record of all medications why they were prescribed, dosages and possible side effects. This can help to tell if the medication is also a contributing factor. 
PLAN SOCIAL ENGAGEMENTS 
You can make mealtimes interesting for your loved one. Take your loved one out to eat at a restaurant. You can as well invite a neighbor or friend to join you. Such activity can help to stimulate your loved one's appetite. 
LIFESTYLE ASSISTANCE 
You can advise and help your loved one to abstain from smoking and excessive consumption of alcohol. As these can impair digestion and absorption of nutrients in the body. 
GET HELP FROM A PROFESSIONAL 
Talk to your loved one's doctor. Let the doctor know about your observations. This will greatly help your loved one to prevent or reduce the risk of malnutrition. 
CONCLUSION

 
The consequences of malnutrition in older adults are serious and can be fatal.  Without proper nutrition, our bodies cannot stay healthy. Malnutrition leaves the elderly susceptible to infection due to  weakened immune systems and other grave health conditions. Managing one's health and nutrition as one age can seem like a difficult task. Family and caregivers should take the onus of helping their elderly loved ones by talking to their family doctor and ask for help when needed. The doctor can help to educate on the risk of malnutrition, health conditions, and medicines. These will help to prevent or reduce the risks of malnutrition in our elderly.