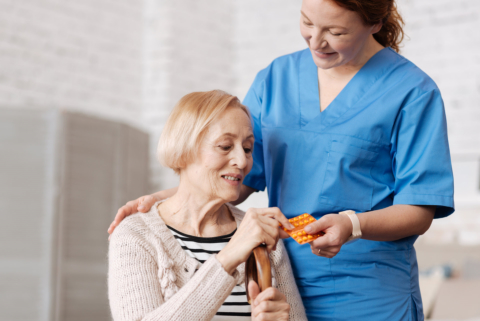 Substance abuse refers to the harmful or excessive use of mind-altering substances, including alcohol and illicit drugs. Substance abuse and addiction were once considered an issue that was rampant among the young. However, the rate at which the elderly population is abusing alcohol, prescription medications and illicit drugs is increasingly alarming. As an individual ages, he or she is faced  with physical, mental and social changes. Subsequently, changes occur in their relationships with family and friends which may stem from life stressors such as retirement and the loss or death of a spouse. With these, various health and medical needs occur more frequently, many of which are quite serious. For many, these changes bring a sense of isolation and loneliness, feelings which are frequently tied to, and exacerbated by, substance abuse. Examples of substances and drugs, elderly loved ones abuse are alcohol, heroin, Valium, marijuana, cocaine and so on. 
SIGNS AND EFFECTS OF SUBSTANCE ABUSE ON THE SENIORS 
Seniors abusing substances face numerous risks, including sensory impairment, harmful medication effects, poor nutrition, social isolation and an increased risk of falls and injuries. Alcohol and drug abuse is also linked to increased mortality rates and healthcare costs. How do you know your elderly loved one is abusing substances or drugs? Some signs of substance and drug abuse remain constant as a person ages, though some may change. This can make it more difficult to identify a potential problem.
Another twist to the issue is that certain signs resemble symptoms of age-related disorders, sensory impairment or other behaviors which accompany aging. This is why it's important that loved ones and caregivers of senior citizens and geriatric persons be aware of the signs of substance abuse. 
Though the exact signs of substance and drug abuse vary per person, here are some signs associated with the seniors abusing substances: 
-Changes in eating habits
-Memory loss
-Speech impairment 
-Health issues with no perceptible cause 
-Depression 
-Mysterious nausea and vomiting 
– Exhaustion 
– Moodiness 
-Strange breath and body odor
-Confusion 
-Bloodshot eyes
-Drinking or using drugs in secret
-Decline in personal hygiene 
Early detection of a substance use disorder in the seniors by their loved ones and caregivers helps to reduce the adverse effects of such drugs or substances abused. It can also help their loved ones and care providers to get help more quickly for them. Without help, substance-abusing senior citizens can quickly experience a severely declining quality of life and health.
CARING FOR SENIORS ABUSING DRUGS AND SUBSTANCES
Getting help for a substance or drug addicted loved one is important at any age but is of high priority for the elderly, who will likely have other complications their younger counterparts may not. 
Here are some tips needed by families and caregivers of seniors abusing substances :
IDENTIFY THE PROBLEM FIRST:
The first step is to identify the problem and the reason why your elderly loved one has engaged in substance abuse. This is because older adults may truly feel lonely in their situation and not reach out for help. 
KNOW MORE ABOUT THE ADDICTION
Caring for seniors abusing substances or drugs is not an easy task. You should ensure that you have better knowledge of the addiction, the symptoms, and the severity of the effects on your loved one. This will help to make decisions on managing the addiction at home or making a referral for specialized care
GIVE YOUR SUPPORT 
Elderly ones with addiction don't always understand how much their family and friends love and care for them. Talk to them about your interests and do not wait till their conditions become irredeemable before giving your support. You should also let them know that you will stand by them on their journey to recovery
ENCOURAGE THEM TO GET HELP 
The earlier one helps an elderly loved one, addicted to substances, get treatment, the better. However, don't be surprised if you are met with denial or excuses as to why they can not or will not get treated. Just be resolute but caring about how important it is that they need to get treated for their addiction, and do not make them feel guilty or ashamed in the process.
GET HELP FROM SPECIALISTS
You can as well involve the intervention of a specialist for your loved one. This can be  difficult to do at times, an intervention may be exactly what your loved one needs if he or she has gone deep into the addiction. The intervention specialist will help you navigate the process.
CONCLUSION
Addiction can be a complex situation especially when the person involved is an old adult. Advising and taking care of them can be very challenging. This is because the act opens them up to some health issues and complications. Seniors abusing substances can be defensive, discreet and apologetic. Family and caregivers, taking time to show them love, care and support will in a great deal help to make them feel safe and may likely bring about their reformation.