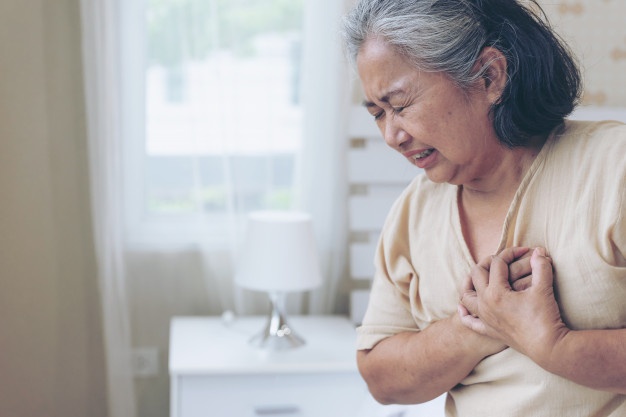 The human heart is an organ that pumps blood throughout the body via the circulatory system, supplying oxygen and nutrients to the tissues and removing carbon dioxide and other wastes. The heart keeps your body running just like an engine makes a car go. Aging can cause changes in the heart and blood vessels.

As you grow older, your heart can't beat as fast during physical activity or times of stress as it did when you were younger. Nevertheless, the number of heartbeats per minute does not change significantly with normal aging.
Older adults are much more likely than younger people to suffer a heart attack, to have a stroke, or to suffer from heart diseases or heart failure. Heart disease is also a major cause of disability, limiting the activity and deteriorating the quality of life of many elderly ones. 

Changes that happen with age may increase a person's risk of heart disease. A major cause of heart disease is the buildup of fatty deposits in the walls of arteries for many years. There are things one can do to lower, or possibly avoid or reverse the risk of heart diseases.
SIGNS AND SYMPTOMS OF HEART DISEASE 
In most cases, the symptoms may be barely noticeable. That's why regular checkups with your doctor are important.
– Exhaustion 
– Dizziness
– Confusion
– Cold sweats
– Loss of balance
– Nausea or vomiting 
– Constant Headaches
– Swollen ankles, feet, legs, stomach, and/or neck
– Difficulty exercising or engaging in physical activities
– Problems doing your normal activities
– Pain, numbness, or tingling in the shoulders, arms, neck, jaw, or back
– Shortness of breath when active, at rest, or while lying flat
– Chest pain during physical activity 
TIPS TO KEEP THE HEART HEALTHY

 
There are many tips caregivers can follow to help keep their loved ones' heart healthy. Here are some of them :
Helping your loved ones watch their  weight is an essential part of making sure that their health conditions are properly managed. 
–

You should help to monitor their weight daily to be sure their body is not retaining excess fluid. A rapid increase in weight in a short period of time is a pointer to the fact that their heart is getting weaker and further intervention may be needed. 
–

You should also help to burn the calories in their body. This can be done by ensuring your loved one is physically active to maintain a healthy weight. 
You should encourage your loved one to eat healthily. A balanced, healthy diet will improve and help manage your loved one's health conditions, and his or her body will function properly. This will also help to improve the functioning of their heart, and also help to maintain a healthy weight. 
ENCOURAGE THEM TO QUIT SMOKING 
If your loved one smokes, you should advise him or her to quit smoking. This is because Smoking reduces the amount of oxygen that the blood can circulate  throughout the body, increases heart rate, and damages the cardiovascular system, all of which can contribute to the development of congestive heart failure and worsen the condition if it does develop.
You should help to keep your loved ones active. Talk to the doctor to be sure of the type of activities that would be best for your loved one. Encourage your loved one to engage in exercise sessions according to the doctor's recommendations. Take a walk with them so as not to let your loved one sit all day long. 
Another way to check and monitor excessive fluid retention in your loved one's body is to check your loved one's hands, feet, ankles and legs for swelling. Fluid retention can cause strain on the heart and can lead to further complications. If the swelling becomes serious, you should seek medical intervention as soon as possible. 
 You should ensure to monitor your loved one's medication. Advise your loved one to follow the  doctor's advice to manage the conditions, and take medications as directed. You also make sure your loved one visits the doctor when required. 
CONCLUSION

 
As we grow older, age takes its toll on our heart. The more reason, the elderly are more likely to be susceptible to heart diseases. Caring for elderly ones living with heart issues is very important. To keep their heart healthy and strong, they need compassion, assistance and care from their families and care providers. Giving them the better life they need all the way will help to boost their confidence, sense of purpose, and overall well-being.