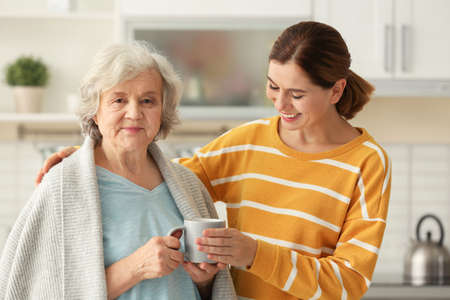 Anyone
can
experience stress. It's our brain and body's way of reacting to the various stressors that we experience in life. Our daily engagements at home, work or during play can result in stress. 
Stress is part of life and with every new life stage comes new stressors. Nonetheless, coping with stress can become challenging as the body responds to stress differently as we age. For seniors, aging and bodily changes; in response to stress can have a physical and mental effect.
SOME COMMON SYMPTOMS OF STRESS
Reactions to stress vary for each person and can manifest itself in many forms. Common symptoms of stress include:
crying

back pain

irritability

edginess

indigestion

indecisiveness

heart palpitations

tension headaches

poor concentration
SOME CAUSES OF STRESS IN SENIORS
As a consequence of worrying about age-related concerns, some seniors may experience higher levels of stress than younger adults. To best manage stress, the first step is to identify how stress usually shows up and then create a strategic plan to ease the stress in order to prevent further health concerns.
Here are some five common reasons that may be the source of your senior loved one's stress: 
HEALTH ISSUES 
As we age, the probability of developing various health conditions increases.
Studies have shown that worrying about serious health problems developing is one of the major causes of stress for most seniors.
Seniors habitually worrying about serious illnesses will affect their well-being and independence. You can help your loved one manage health issues by persuading him or her to eat a healthy diet and exercise regularly. Your loved one should also have regular checkups and this helps catch any medical conditions early enough; before they become severe. 
FINANCIAL SECURITY
They would have to retire from work either voluntarily or because it has become too challenging to continue working; especially when they have reached the age of retirement. This means many seniors live on somewhat limited fixed incomes, and some solely rely on social security checks to meet their needs monthly. As a result of this, how to make ends meet becomes a serious concern to them. One of the best ways to ease your loved one's stress about finances is to sit down together and go over his or her budget. Volunteer to help your loved one make modifications if needed, and look for productive ways to help him or her save money, such as looking online for coupons and learning how to shop for the lowest prices on a variety of items.
LOSS OF INDEPENDENCE
The desire and capability to retain independence for as long as possible is one of the major concerns among seniors.
Worrying about aging, having to rely on others, and not being able to perform daily tasks independently are common causes of stress for seniors. 
The change in lifestyle after having been a self-sufficient adult for many years can lead to stress.
You can help your loved one face fears of losing independence by discussing plans for the future. Involve them in the decision-making process; most especially on where and how they would love to spend the rest of their life. This may make them feel more in control of their daily life.  Convince your loved one you don't want to take away his or her independence and that you understand the anxiety and fears they are feeling. This will help your loved one live a happier and healthier life.
Shocking events such as abuse especially from loved ones or the recent death of friends, family members – spouse or partner, and pets are common pointers to aggravating stress in seniors. As they age, they are likely to have a number of friends and acquaintances pass away. This can also cause feelings of sadness and depression. Offer a shoulder to your loved one to lean on when needed. You can also let him or her know you are open to talking about the loss or any traumatic experience they might have experienced; as this can help reduce their stress.
LONELINESS
As we age and experience changes in life, such as losing loved ones, it is very likely for one to become lonely. Changes or reduction in the amount of time spent with family and friends can lead to a sense of isolation and loneliness; and resulting in stress. Invite your loved one out and make plans for them to spend enough time with family and friends. Suggest activities you know your loved one will enjoy: walks, a trip to the movies—anything that provides mental or physical stimulation.
SOME TIPS TO HELP SENIORS MANAGE STRESS 
Here are some tips families and caregivers of seniors can adopt to help their elderly loved ones manage stress:
PROPER FEEDING 
When caring for elderly loved ones experiencing stress, caregivers should plan and prepare healthy meals for them.
Their meal should contain the right proportion of vitamins needed to improve or manage their health conditions. A poor diet can worsen their stress level, so caregivers should make sure their loved ones eat rightly and promptly.
SHOW THEM YOUR SUPPORT 
Caring for your elderly loved one who is experiencing stress, you should make a difference by giving him or her emotional support. Lend a listening ear to your loved one with patience, compassion and hug them often. Do not criticize their feelings, but point out realities and offer hope. You can also help by ensuring that your loved one gets an accurate diagnosis and appropriate treatment for any health challenge they may be facing. Help to find a good doctor, accompany them to appointments, and offer moral support. 
HELP WITH SLEEPING PROBLEMS
Many seniors who live alone are prone to  having sleeping problems which can worsen and lead to stress. To prevent this, ensure that your elderly loved one keeps a regular sleep schedule and does not take daytime naps. You should also ensure that your loved one sleeps in a very comfortable environment in order to have an undisturbed sleep. 
HELP TO LIVEN THEIR SOCIAL LIFE
 Invite your loved one out. Stress is less likely when one's social life is stimulated. Suggest activities you know your loved one will enjoy: walks, a trip to the movies—anything that provides mental or physical stimulation. You can also organize regular social activities such as group outings, visits from friends and family members. Visits to the local senior or community center can also help them fight isolation and loneliness. You should also encourage your loved one to engage in exercise sessions. Exercise releases a 'feel good' hormone that fights stress hormones and can help seniors deal with anxiety.
MONITORING THEIR TREATMENT AND MEDICATION
Anxiety and frustrations due to health issues can lead to stress. Encourage your elderly loved one to follow through with treatment and ensure they take medications regularly and obey doctor's orders in terms of dosage, lifestyle and diet. Since stress can emanate from poor health conditions; especially when treatment is stopped too soon, help your loved one keep up with their treatment plan. 
HELP THEM SET BOUNDARIES
Help your elderly loved ones identify their major stressors. As your age and lifestyles change, it's important to set boundaries with family, friends and some activities that can trigger stress. Helping your loved one to learn to say 'no' in a kind and compassionate manner can help them state their wishes and handle conflicts, thereby alleviating some stress that could have risen from such situations.
GET HELP FROM SPECIALISTS 
You can as well involve the intervention of a specialist for your loved one in order to help ease their stress easily. This can be  difficult to do at times, an intervention may be exactly what your loved one needs in a case where the stress is high. The intervention specialist will help you navigate the process.
CONCLUSION 
If you're concerned about your loved one experiencing stress, one of the best things you can do to alleviate his or her anxiety is to get help quickly; in order to provide support and encouragement.
Going through stress is much tougher for people who have lost their sense of purpose in life. Families, friends and caregivers of seniors experiencing stress should help them find their sense of purpose, well-being and safety 
by showing them love, care and support. This will in a great deal help them ease their stress level and improve their health conditions.