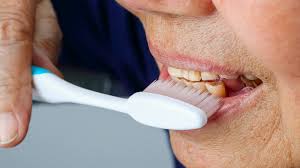 Dental and oral health is an essential part of your overall health and well-being. Poor oral hygiene can lead to dental cavities and gum disease. Seniors are at an especially high risk of mouth and tooth infections and the complications that can come with these problems. Losing teeth, which is mainly caused by infection, not only leads to changes in our appearance but may also make it harder to chew certain foods. That can lead to loss of appetite, making it harder to receive the nutrients the body needs to function properly. We know that oral health issues are more common with aging and there is a connection between aging and having tooth problems. In fact, dental cavities occur in older adults more than they do in younger adults.
SOME ORAL AND DENTAL CONDITIONS IN THE SENIORS

 
 Usually caused by reduced saliva flow, which can be a result of cancer treatments, some health conditions or medication side effects. Some medications can bring about dryness in the mouth. 
Gum disease is usually caused by plaque. Food left in the teeth also worsen the condition of the gum. Poor diets, tobacco products, poor-fitting bridges and dentures, and certain diseases, such as anemia, cancer, and diabetes are contributing factors. This is often a problem for the elderly. Gum disease is a leading cause of tooth loss.
 As we grow older, our sense of taste declines. Diseases, medications, and dentures can also contribute to this sensory loss.
This is usually caused by changes in dentin and by a lifetime of consuming stain-causing foods and beverages. Also caused by thinning of the outer enamel layer that lets the darker yellower dentin show through. A darkened tooth or teeth may also be a sign of a more serious problem. 
 This is caused by tooth removal and not replacing missing teeth. This allows the rest of the teeth to drift and shift into open spaces
This is caused by exposure of the tooth root to decay-causing acids. The tooth roots become exposed as gum tissue diminishes from the tooth. Roots do not have any enamel to protect them and are more prone to decay than the crown part of the tooth.
Diseases or drugs that affect the immune system can trigger the overgrowth of the fungus Candida albicans in the mouth.
SYMPTOMS OF DENTAL AND ORAL PROBLEMS IN SENIORS
Caregivers should not wait until their loved ones have symptoms to visit the dentist. Going to the dentist at least twice a year will usually allow them to notice a problem before its symptoms. If your loved one is showing any of the following warning signs of dental health issues, you should make an appointment for him or her to see the dentist as soon as possible:
– Pain or toothache
– Loose teeth
– Diminishing gums
– Discomfort when chewing or biting
– Swelling face and cheek
– Cracked or broken teeth
– Frequent dry mouth
– Chronic bad breath
– Sores, or tender areas in the mouth that takes time to heal 
– Bleeding or swollen gums after brushing or flossing
– Sudden sensitivity to hot and cold temperatures or beverages
There are many factors that contribute to poor oral and dental health in the elderly. They include: 
– Family history
– Smoking 
– Diabetes 
– Poor brushing habits
– Feeding too much on sugary foods and drinks
– Infections diseases such as HIV or AIDS
– Medications that cause dryness in the mouth
WAYS TO CARE FOR YOUR LOVED ONE'S ORAL HEALTH 
There are many steps you can take to help keep your loved one's teeth healthy. Here are some of them:
– You should ensure that your loved one brush his or her teeth with fluoride toothpaste at least twice a day
– Your loved one's teeth should be flossed at least once a day
– You should monitor your loved one's diet. Help to reduce his or her sugar intake and encourage your loved one to take diets high in fruits and vegetables
– You should advise your loved one to abstain from smoking or tobacco products
– Your loved one can also drink fluoridated water frequently to avoid tooth decay. 
– You should ensure that your loved one visits a dentist regularly and seek professional dental care when necessary. 
CONCLUSION
Those caring for elderly patients or older family members are more likely to encounter more demands and difficulties especially when it comes to their oral health because of their mobility challenges, as well as losses in cognitive ability.  A senior suffering from poor oral health could be in pain and discomfort and experience problems in their mouth and jaw. They might also have challenges eating and drinking which could lead to nutritional deficiencies and consequently, other health conditions. It is of great importance that all seniors are given the support, care and opportunity to maintain good oral health. As a caregiver, ensure that you are in the best position to either help provide this care and support directly, or know where to go to get appropriate and safe services.