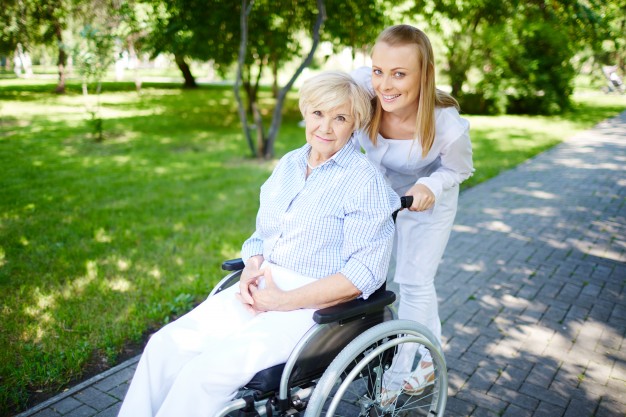 Sensory impairment is the common term used to describe the decline or loss of the five senses- sight, hearing, smell, touch, taste. Sensory impairment is a common occurrence in the seniors which poses significant challenges in carrying out their day-to-day activities. 
The human senses of sight, sound, and smell are very essential systems needed by humans to experience, interpret, and steer their environment. As with all biological systems, these sensorineural systems are likely to be vulnerable to the effects of physiological dysregulation and disease leading to declines in function with age. Whereas the orbit of physiological aging varies from person to person owing to environment, health and genetics. 
THE SENIORS AND SENSORY IMPAIRMENT 
Statistics have shown that sensory impairments increase with age and the majority of our elderly loved ones, aged 65 and above will experience a sensory impairment if they live long enough. They are more prone to develop visual or hearing impairment. It has also been reported that about 30% of them are more prone to develop some of the other forms of visual impairment. This sensory deficit has also been significantly linked to constraints in emotional, social as well as physical functioning and can also become a major source of isolation and frustration, which can in-turn result in further health problems such as anxiety and depression. Consequently, families are to identify the needs of their elderly loved ones to ensure they get proper care and support. Senior care providers also need to ensure that their services are accessible to this lith of the population.
CARING FOR THE SENIORS WITH SENSORY IMPAIRMENT 
Since the most common sensory deficits are loss of hearing and vision, below are some tips families and caregivers can employ to improve the quality of life for the seniors living with such sensory impairment in order to keep them safe and loved both at home and in the senior homes:
LOSS OF SIGHT
Caring for a loved one with visual impairment can be challenging for everyone involved but caring for them is the only way they can experience love and care from their families and caregivers by helping them with life tasks. With the care and help, older adults are likely to live longer and healthier than expected.
To care for them, the following should be considered :
It's appropriate to emphasize the link between their nutrition and their vision. Their meal should contain the right proportion of vitamins needed to improve or manage their health. If not done, this can contribute to the exacerbation of their already affected health conditions.
2. REGULAR EYE CHECK : 
The seniors should be encouraged to visit the opticians on a regular basis. The sooner the deterioration of sight is identified, the better. 
3. DECLUTTERING THEIR SURROUNDINGS OF HAZARDOUS MATERIALS :  
Leaving hazardous materials such as broken bottles, broken chairs, broken handrails, loose wires and carpets or other sharp objects around visually impaired seniors pose potential dangers to them. So they should be removed to avoid such. 
4. ASKING QUESTIONS:  
Never presume where elderly loved one wants to go. Ask for details of where and how he or she would like to be guided. Walk at his or her pace and, if there is space, walk side by side and always 'hand to arm'
5. COMMUNICATE CHANGES TO THEM:
Ensure to describe any sudden changes in the environment. It is also very important to explain changes in ground surfaces and especially when moving into wide open spaces, such as fields.
HEARING LOSS 
Caring for seniors with auditory impairments can also be very tasking especially when communicating with them. Such seniors often misses overt cues because of their limited sense or loss of hearing. As a result, they may come to see the world as an unpredictable, and possibly threatening, place. They become increasingly dependent upon those around them to make their world safe and understandable. Of course, communicating and caring for them can be tiring, yet they deserve the love and care of families and everyone around them. 
These proven tips will help you get your message across better and show that you care:
1. GET THEIR ATTENTION : 
It is important to get the attention of an auditory impaired senior before speaking. A gentle hand on his or her shoulder or arm will alert him or her to your intention to speak. When you want to talk
to them, face them directly. By being able to see each other's facial expressions, it will help both of you better understand each other. Employ facial expressions, gestures and body language to help communicate your message. Ensure your face is in an illuminated area so your loved one can see you clearly.
2. GIVE THEM ATTENTION:
Listen carefully to your loved one's responses. This will tell you whether they understood you. Ask your elderly loved one to repeat what he or she heard. In a kind and gentle voice, repeat your message, if necessary. 
Be patient. It may take more than one attempt to get your message across.  
3. SPEAK LOUDER WITHOUT SHOUTING:
This takes practice for most people. Simply projecting your voice as if you were talking to a group of people around large dinner table can also help to communicate effectively with a senior with hearing loss 
4. DO AWAY WITH BACKGROUND NOISE:
When attempting to have a conversation with an elderly with auditory impairments, turn off the TV or radio. If you are in a crowded area, try to find a less noisy place. In restaurants, avoid sitting near the kitchen or where music is playing.
5. GETTING HEARING AIDS:
A senior with hearing loss can be advised to get hearing aids. There are a range of hearing aids and cochlear implants available on the market. You can help to provide practical advice on which gadgets may improve their lifestyle
CONCLUSION
Caring for seniors with sensory impairment is of great importance. They should be consistently and adequately taken care of. The love and support they receive from their loved ones, help them stay socially engaged, give them a greater sense of purpose and help create a safe and familiar environment for them to live in. It may be cumbersome taking care of seniors with sensory impairment but the potential gains the elderly loved ones will experience are worth the effort.